New Wheels For Bree
HELP US GET NEW WHEELS FOR BREE!!!!!
Bree is such a giving soul, she assist many to see their own potential in life. She is a proud young woman of 26 that doesn't ask for anything in return.
Those of us that know and love her, are asking YOU to help us help Bree.
Bree has an old wheel chair, that often needs repair and has been the cause of limiting her mobility over the last few years.
Our goal is to buy Bree a New Paraplegic Wheel Chair, that can accommodate her needs, while providing comfortable transportation.
THANK YOU In Advance!
The Curious Times Crew
A little more about Bree, in her own words.
At the age of 15, I was diagnosed with cerebral cavernous malformation and arteriovenous malformation, aneurysms, I have too many on my brain, what they do is grow till they burst.
I have them all over my brain. When I turned 20, one ruptured on my spine from the chest down. Doctors didn't even think that was possible to get them on the spine, but for the past 6 yrs.
the one that ruptured on my spine has left me paralyzed from the waist down.
I have another one in my C2 area that can paralyze me from the neck down. The one's in the brain causes me to have seizure's all the time.
But through it all, I have to have a positive attitude and make the best of everyday. Life, it's definitely a journey :) Bree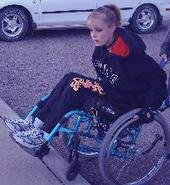 The above came from the link it is all the information that is posted there. But I know Bree and she is the sweetest person in the world and we all love her very much and if you would get to know her you would love her also, and it maybe a long time before you would know that there is something a little different with her than most people. Bree does so much to help people in her way and only brings up that there is even something wrong if she is on a platform to talk about it and make people aware of this and that it is out there and how it has changed her life, but she always sees the shinny part in everything. So please go and see if you can help Bree get this new chair.
I know that I want to thank Sheri Aka Solana for getting this going for us we will reach this ASAP.
Thank you,
Teri